Singing, dancing, and shouts of BINGO echoed on a Friday night at Mingo's, the host of this year's annual Louison House fundraiser- Musical Bingo!
An estimated 135 people came together for a dynamic game of musical bingo that tested everyone's ability to name that tune. There was a lot of laughter, fun, and raising of the roof to the tunes of KISS, Johnny Cash, the Beach Boys, Madonna, and Old Crow Medicine Show.  Generous donations from our community partners resulted in winners dancing away with prizes such as tickets to a Red Sox game, memberships to Mass MoCA and The Clark, rounds of golf at Taconic and Wabekah, a 51" TV, a $199 lottery ticket tree, a two night stay at the Smedley House, and a week long stay at the Cape. Congratulations to all the winners!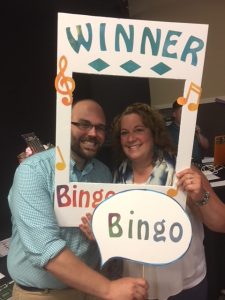 Through the support of our friends, families, staff, and community members we were able to raise over $4,000 to support the efforts of Louison House to rebuild hope in Northern Berkshire County.  Funds raised at this event will be used to support the work of Louison House. 
We are incredibly grateful for the generosity of such a supportive community and would like to take this opportunity to express our sincere thanks to Ozzie Alvarez, Morgan Levesque, and the staff at Mingo's for their incredible support! Thank you to all who came to test their musical skills. We look forward to seeing everyone again in late fall for our next event!