History
Louison House is a private, 501 (c) (3) non-profit organization established in 1990 by local agencies to address issues of homelessness. As the only comprehensive housing agency in Northern Berkshire, Louison House works to serve our neighbors facing homelessness or housing insecurity. Over the past three decades, Louison House has provided services to over 8,000 individuals and families struggling with homelessness in Northern Berkshire.
Rebuilding Hope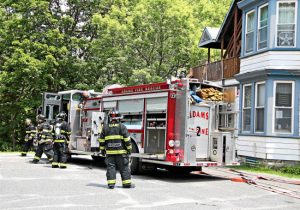 A small fire occurred at Louison House in Adams on June 26, 2016, causing extensive water damage to the property. As a result, residents and all programs were relocated to the Flood House, located at 149 Church Street North Adams. Through generous community support and state funding, Louison House will be able to complete upgrades and renovations to both the Adams and the North Adams Flood House buildings. After the completion of the work, the Transitional Housing shelter will return to the Adams house. The administrative and special services will remain in North Adams, and a total of five new supportive housing units will be created in the buildings. With the upgrades to the Flood House in North Adams, numerous subsidized leased apartments, and the soon to be renovated and re-imagined original Louison House in Adams, Louison House is better positioned to meet the needs of our homeless neighbors. Louison House offers the emotional and physical support structures necessary for providing safe housing and Rebuilding Hope within our community. We do this by:
Providing quality, compassionate programming that fits the growing and changing needs of the homeless individuals and families in our community.

Working with transitionally housed individuals and families to strengthen skills, improve their education and training, secure employment or adequate living income, and overcome other barriers (disability, addictions, domestic abuse, etc.) in order to secure successful permanent housing.

Collaborating with community partners to find innovative approaches to address the ongoing concern of homelessness in our community.
Vision, Mission, Purpose, and Values
Organizational Vision
Our vision is to continue to work collaboratively with our partners to create a network of support in order to ameliorate and prevent homelessness in Northern Berkshire.
Mission Statement
The mission of Louison House is to meet the needs of our neighbors who are experiencing homelessness or at risk of housing instability.
Core Purpose
Providing creative housing solutions and innovative special services to better meet the changing and growing needs of homelessness
Core Values
Compassion: Louison House shows kindness and fairness to all who are in need of our services.

Respect: Louison House respects people, without being judgmental, regardless of their circumstances or personal history.

Innovation: Louison House provides unique approaches to address homelessness in our community.

Empowerment: Louison House supports and empowers those we work with, by providing them with the skills, connections to resources, and tools necessary to succeed in their lives.

Collaboration: Louison House will continue to work with a variety of partners to lessen the impact of homelessness in our community.